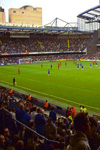 Chelsea FC - Tottenham
MIÉ, 08 MAY 2013, Stamford Bridge
Precio desde € 151.40
Info
* The final match date and kick-off time is confirmed 5-30 days prior to the match day. If in doubt please check the official club website. Changes within the date frame are beyond our control and we ask that you are aware of this when making your travel plans!
* You will NEVER get any single seats. You will always get seats next to your friends, right in front or right behind your friends. This is our guarantee from us to you!
* You will always be seated among home supporters or in a neutral zone.
* When you have completed your booking a booking confirmation/receipt and your e-tickets will be send to your e-mail address immediately.
* All information regarding collection or delivery of your original match tickets will be clearly stated on your e-ticket.
* We highly recommend that you carefully read our terms and conditions for booking football tickets!

Below you can read more about the seating and categories available for this football match.
Categoría
Stamford Bridge : Por lo general, las entradas que vendemos se sitúan en las zonas llamadas West Upper o East Upper.
NB: BLUE DINNER TICKET / TEA BAR:: Esta entrada incluye una comida o cena en uno de los restaurantes localizados dentro del complejo de Stamford Bridge/ Chelsea FC. La comida siempre será ANTES del partido, y el restaurante abre 2 horas antes del comienzo programado. El asiento incluido con este tipo de entrada siempre se ubicará en el East Upper Tier y West Upper Tier de Stamford Bridge. ¡Atención!: transporte NO incluido en el precio.

For Champions League we sell 'Long Side Tickets incl. buffet without drinks':
Long side tickets + Pre-match 3 course hot and cold buffet served in Stadium Complex + Cash bar(You have to pay for all you drink). No opposition shirts are permitted.

For some matches, you can book 'SHORT SIDE TICKETS IN AWAY SIDE SECTION'. If you do you are not allowed - under any circumstances – to wear any Chelsea shirts, scarfs or colors. Please show in neutral clothes

POWERED BY TRAVEL CONNECTION
Hotel
Hotel:
Para partidos de Chelsea, si vendemos entradas en la categoría
West Stand
incluyendo 2 noches (de sábado a lunes) o 3 noches (de viernes a lunes) en uno de los siguientes hoteles:
Royal National Hotel
(**): el hotel más grande del centro de Londres, con 1630 habitaciones, situado cerca de Russel Square. Las habitaciones son básicas pero incluyen todas las instalaciones necesarias. WiFi gratis en el vestíbulo. Desayuno incluido en el precio.
Kensington Close Hotel
(****): perfectamente ubicado cerca de las tiendas de High Street Kensington. El hotel dispone de un precioso jardín privado, club de salud, spa y piscina. WiFi en cada habitación (no gratis). Desayuno incluido en el precio.
Cumberland Hotel
(****): un hotel genial situado cerca de Oxford Street y Marble Arch. Cumberland es un hotel moderno y artístico. WiFi gratis en el hotel y en las habitaciones. Desayuno incluido en el precio.
Aquí puedes reservar habitaciones con camas gemelas o triples.

A veces, en ocasiones muy raras, nos comunican que tenemos que cambiar el hotel después de estar completada la reserva . Si esto ocurre, siempre confirmaremos un hotel de un estándar similar al que habías reservado, o mejor!

Tus entradas de fútbol te serán entregadas cuando hagas el check-in en el hotel.

Tal y como funciona con todas las reservas de fútbol, no se permiten cambios ni cancelaciones de packs de entradas de fútbol con hotel una vez hayas confirmado y pagado tu reserva!
Carreras pasadas
Chelsea FC vs Tottenham, MIÉ, 08 MAY 2013
Chelsea FC vs Tottenham, SÁB, 24 MAR 2012
Chelsea FC vs Tottenham, SÁB, 30 ABR 2011
Chelsea FC vs Tottenham, DOM, 20 SEP 2009