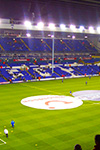 Tottenham - Swansea City
MIÉ, 04 MAR 2015, White Hart Lane
Precio desde € 68.90
Info
* The final match date and kick-off time is confirmed 5-30 days prior to the match day. If in doubt please check the official club website.
* Weekend matches are always played Saturday or Sunday and on rare occations Friday evening.
* Weekday matches are always played on Tuesday, Wednesday or Thursday.
* Changes within above date frames are beyond our control and we ask that you are aware of this when making your travel plans!
* You will NEVER get any single seats. You will always get seats next to your friends, right in front or right behind your friends. This is our guarantee from us to you!
* You will always be seated among home supporters or in a neutral zone.
* When you have completed your booking a booking confirmation/receipt and your e-tickets will be send to your e-mail address immediately.
* All information regarding collection or delivery of your original match tickets will be clearly stated on your e-ticket.
* When collecting the tickets you must show a valid photo ID and proof of purchase by bringing the credit card you used when booking the tickets.
* We highly recommend that you carefully read our terms and conditions for booking football tickets!


Categoría
No 10 Club Lounge North Stand:



-Asientos acolchados en la zona baja, North Stand
-Vista excelente del campo
-Antes del partido disfruta un sandwich sustancial deli-gourmet cortado por un chef, con ensalada
-Servido en el moderno y espacioso lounge del estadio
-Asientos con mesa disponible
-Bar (no hay bebidas gratis incluidas en el pack)
-Café/té en el medio tiempo
-Programa del partido
-Ficha del equipo
-Leyenda de los spurs (un antiguo jugador) visitará el lounge
-Abre dos horas antes del comienzo del partido, abierto una hora después del último silbido
-Ambiente simpático e informal, familias bienvenidas



Lilywhite Lounge West Stand:



- Asientos Premium Executives, Tribuna West Stand




- Paquete Lilywhite Lounge




- Asientos siempre juntos!




- Bufé de bocadillos gourmet y ensaladas antes del partido




- Bufé servido en el restaurante del estadio, acceso directo desde los asientos




- Té o café en el descanso




- Los ex jugadores de los Spurs serán presentes (oportunidades para fotos y autógrafos)




- Programa de recuerdo del partido




- Bebidas a la venta




- Salón informal en el restaurante, ambiente relajado




- Las familias y los niños son los bienvenidos




- No hay código de vestimenta(pero las camisetas de equipos visitantes no están permitidas)



Standard Tickets:
-Long side or Short side tickets.

Premium Executive Seats, incl. Pre-match buffet:

- Tickets are always at the North West Corner overlooking Spurs home fans in the famous North Bank.
- Includes a Pre-match buffet served 2 hours before the game in one of the stadiums restaurants.
- Matchday programme.
- Tea, coffee and refreshments.
- Cash bar available at half-time and after the game.
- No dress code(except no opposition football shirts), a relaxed atmosphere and families and children are welcome.

Box Seats Long side:

- Fantastic long side seat position, between edge of penalty box and half way line
- Seat location directly above first tier with clear view to pitch and substitutes bench
- Comfortable wide seats, weather protected as seats are behind expansive panoramic glass
- Access to VIP box holders lounge – ex-players often in attendance
- Drinks available to purchase in lounge
- Team sheets distributed to boxes
- Stadium and VIP lounge open 2.5 hours prior to kick off, until one hour after final whistle
- There is no strict dress casual, but no ripped jeans, or away football shirts – home shirts are allowed.
Carreras pasadas
Tottenham vs Swansea City, SÁB, 16 SEP 2017
Tottenham vs Swansea City, SÁB, 03 DIC 2016
Tottenham vs Swansea City, DOM, 28 FEB 2016
Tottenham vs Swansea City, MIÉ, 04 MAR 2015