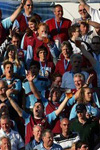 West Ham United - Crystal Palace
SÁB, 02 ABR 2016, Boleyn Ground Upton Park
Precio desde € 169.10
Info
* The final match date and kick-off time is confirmed 5-30 days prior to the match day. If in doubt please check the official club website.
* Weekend matches are always played Saturday or Sunday and on rare occations Friday evening.
* Weekday matches are always played on Tuesday, Wednesday or Thursday.
* Changes within above date frames are beyond our control and we ask that you are aware of this when making your travel plans!
* You will NEVER get any single seats. You will always get seats next to your friends, right in front or right behind your friends. This is our guarantee from us to you!
* You will always be seated among home supporters or in a neutral zone.
* When you have completed your booking a booking confirmation/receipt and your e-tickets will be send to your e-mail address immediately.
* All information regarding collection or delivery of your original match tickets will be clearly stated on your e-ticket.
* When collecting the tickets you must show a valid photo ID and proof of purchase by bringing the credit card you used when booking the tickets.
* We highly recommend that you carefully read our terms and conditions for booking football tickets!


Categoría
Alpari Stand/Long Side : Las entradas siempre se sitúan en el Alpari Stand/Long Side entre seguidores neutrales.

Executive Box Long SIde: Asientos en palco privado VIP con una ubicación excelente de campo largo, con balcón privado, dentro del estadio. Incluido en la categoría "Executive Box Long Side" vienen:


- comida de 2 platos servido 2 horas antes del comienzo.
- barra disponible dentro del palco (no es gratis, solo se acepta pago en
efectivo)
- se incluye un programa del partido.
***Powered By Travel Connection***
Carreras pasadas
West Ham United vs Crystal Palace, SÁB, 14 ENE 2017
West Ham United vs Crystal Palace, SÁB, 02 ABR 2016
West Ham United vs Crystal Palace, SÁB, 28 FEB 2015
West Ham United vs Crystal Palace, SÁB, 19 ABR 2014
West Ham United vs Crystal Palace, SÁB, 25 FEB 2012