Apollo Theatre, Londres
Todos Apollo Theatre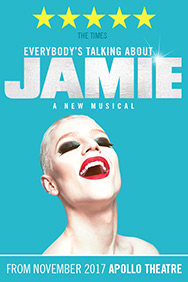 Everybody's Talking About Jamie
Jamie New is sixteen and lives on a council estate in Sheffield. Jamie doesn't quite fit in. Jamie is terrified about the future. Jamie is going to be a sensation.
Cat on a Hot Tin Roof
Tennessee Williams' searing, poetic story of a family's fight for survival is a twentieth century masterpiece. Book tickets for Cat On A Hot Tin Roof with Sienna Miller here!