Apollo Theatre, Londres
Todos Apollo Theatre
Cat on a Hot Tin Roof
A return to the stage for director Benedict Andrews following his smash hit production of A Streetcar Named Desire. Tennessee Williams' searing, poetic story of a family's fight for survival is a twentieth century masterpiece.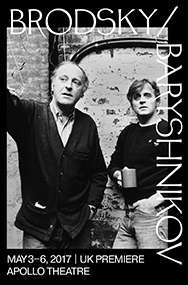 Brodsky or Baryshnikov
Brodsky / Baryshnikov is a one-man show based on the poems of Nobel laureate Joseph Brodsky, performed by Mikhail Baryshnikov. Conceived and directed by Alvis Hermanis, noted Latvian director of The New Riga Theatre, Brodsky / Baryshnikov is an emotional journey deep into the poet's visceral and complex compositions. Performed in Russian, Brodsky's mother tongue, Baryshnikov recites a selection of ...
Travesties
Travesties, Tom Stoppard's dazzling comedy of art, love and revolution features James Joyce, Tristan Tzara and Lenin as remembered by Henry Carr, a minor British diplomat in Zurich 1917.