Belasco Theatre, Nueva York
Todos Belasco Theatre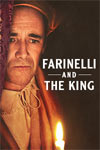 Farinelli and the King
Coming to Broadway following a sold-out run on London's West End, Farinelli and the King tells the story of Philippe V, a Spanish monarch on the brink of madness. He finds unexpected solace in the voice of world-renowned castrato, Farinelli.
Michael Moore: The Terms of My Surrender
Michael Moore makes his Broadway debut in The Terms of My Surrender. In a time like no other in American history, and with a sense of urgency like never before, Michael Moore comes to Broadway for the first time in an exhilarating, subversive one-man show guaranteed to take audiences on a ride through the United States of Insanity, ...