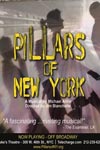 Pillars of New York
St. Luke's Theatre
Pillars of New York is an authentic chronicle of a group of New Yorker's daily lives that were altered by the events of September 11th.

Highlights:
- Experience Pillars of New York
- Get the best seats available in your chosen category
- Enjoy a moving play

Experiences Pillars of New York
Pillars of New York is about unmasking the struggles of a writer/therapist and his associate along with four couples. A mother's shame over her son's homosexuality, marriages that undergo infidelity, a woman's inferiority complex and revenge, the impact of an unexpected pregnancy, career goals; lies and deceit all take a toll on their lives.

How do I get my tickets?
Shortly after your booking is complete, you will receive an e-ticket by email. Please print out your ticket and bring it with you to the theater.