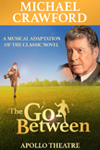 The Go-Between
Apollo Theatre
Precio desde € 31.00
The Go-Between is the musical adaption of the classic novel by British novelist and short story writer L. P. Hartley, first published in 1953. Besides this musical adaption, the play has been adapted for film, theater, television, opera, tv and radio.

Highlights:
- Get your tickets sent directly to your inbox
- Choose your seats in your chosen seating section
- Ensure your tickets to a musical adaption of the classic novel

What is The Go-Between about?
The Go-Between follows the story of elderly man, Leo Colston, played by a
Michael Crawford, who no longer can hide from the memories of his past. Memories of the gloriously hot summer of 1900 and of his days spent in Norfolk come flooding back.

Spending the holidays with the family of his school friend Marcus in their luxurious country home, the young Leo finds himself acting as the go-between for the beautiful upper-class Marian and tenant-farmer Ted, who are embroiled in a forbidden secret love affair. The innocent Leo gets caught up in the adult atmosphere of deceit and manipulation as he risks everything in this deeply moving coming of age story.

The events of that summer and the devastating effects of love denied will shape his life forever.

How do I get my tickets?
Shortly after your booking is complete, you will receive an e-ticket by email. Just print out your ticket and bring it with you to the theater.