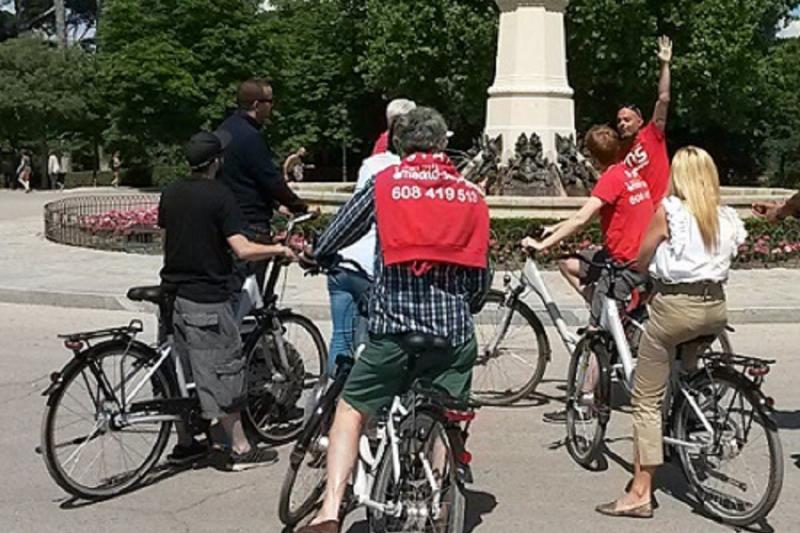 Madrid Cycling Sightseeing
Este es un producto nuevo! Ya es posible reservar entradas, y la información estará disponible en Español dentro de poco.
Why not see Madrid from a bicycle? Join our Madrid Cycling Sightseeing tour and discover Madrid in a unique and different and way. Book your tickets for Madrid Cycling Tour here!

Whether travelling alone or with friends, our bike tour is the perfect way to spend some hours in Madrid. Our tours offer you the company of a knowledgeable English-speaking guide, a comfortable and "easy to ride" bike, useful tips and advices about what to do and see while in Madrid and a fun and informative outdoor experience.

You'll finish the tour with the feeling that you've seen the sights and gotten to know what you need about Madrid, while having a fun, entertaining and social experience in the process.

We bike to the most important sights of Madrid: Templo de Debod , Royal Theatre , Royal Palace , Almudena Cathedral , Plaza de la Paja , Town Square , Plaza Mayor , Puerta del Sol , St. Ann´s Square , Paseo del Prado , Prado Museum , Retiro Park , Alcala Gate and Cibeles Square.

We will ride mainly on cycling paths, pedestrian zones and parks and Of course we will make stops to take some photos and to have a drink.

You will never forget this great experience!

Important information:
- The Tour is in English!
- The ticket is ONLY valid on the booked day.
- Please arrive 15 minutes before departure time.
- Please note this tour is on request, and it will take up to 48 hours to get it confirmed.
- Please note this tour can be cancelled on short notice due to bad weather.
- If the tour is cancelled because of the weather we will do our best to contact you and offer you alternative dates!
- Children under 14 years old are not allowed on this tour!
- Participants on this tour must have full motion ability and be able to climbing and descending stairs without assistance.
- We recommend comfortable clothing and shoes. In winter please wear warm clothes and in case of rain please wear some water protecting clothes. Rain poncho are available, should they be needed. Helmets are available on request for free.
- Madrid Cycling Tours starts and ends at Madrid Cycling Tour/Trixi.
Reserva ya
Fantástico:
4.2
– 11

reviews
Cancelación de tickets Cancelación de tickets
Reembolsables hasta 48 horas antes de la fecha reservada. Puede haber una tasa de cancelación de hasta un 20%.
Se imprime billete en casa
Indicaciones
Madrid Cycling Sightseeing
Dirección
Avenida de Menéndez Pelayo, 9 28009 Madrid Spain
Atención al Cliente en Español

93 181 67 02
Necesitas ayuda? Contestaremos tus preguntas con mucho gusto.