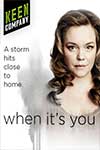 When It's You
Theatre Row - The Clurman Theatre
A timely new play by Courtney Baron about the aftermath of a mass shooting in contemporary America

Having lost her mother to illness, Ginnifer has moved into her mother's home in the town she grew up in. After learning a former childhood boyfriend has committed a mass shooting, Ginnifer must confront her relationship to the heinous crime as well as her place in America as a single woman approaching middle age. Timely and moving. When It's You complexly and honestly explores America today.

Courtney Baron's plays have been produced by MCC, Actor's Theatre of Louisville (Heideman award) and The Magic Theatre.. "Heartrending and unexpectedly funny." - NY Times. When It's You was developed in Keen Company's Playwrights Lab.