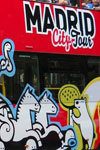 Hop-on Hop-off Madrid City Tour
Precio desde € 21.00
Hop-on Hop-off sightseeing in Madrid is a great way to see Madrid, in your own pace. Hop-on Hop-off sightseeing in Madrid can be booked here!

Hop-on Hop-off sightseeing is the funniest and easiest way to know and see Madrid from a double-decker bus. With one ticket, you will be able to hop on and off the busses all day along the route of your choice or change to another, at your own pace admiring the architectural and cultural magnificence of Madrid!

All busses are equipped with commentaries offered through headphones audio system in fourteen different languages, incl Spanish , Catalan , English , French , German , Italian , Portuguese , Dutch, Arabic, Japanese, Chinese and Russian .

Click HERE for a detailed map of the 2 routes and all the stops!

When boarding one of the many buses, you will be given a map of the city and discount checks for different shops and restaurants in the city.

Important information:
- You can choose tickets valid for 1 DAY or 2 consecutive DAYS.
- Look under the route map to see the schedule for the first and last bus.
- Child rate is from 7 to 15 years old.
- The E-ticket / Voucher we send to you straight after you have booked your tickets can be redeemed on ANY Madrid City Tour bus. Just print the voucher / e-ticket, and bring a copy to the first bus you like to board, and off you go!
- Madrid City Tour busses operates frequently between every 8 and 15 minutes and every route takes about 80 min.